Our career progression
Starting any new job is exciting. We pride ourselves on offering great career opportunities and developing talent from within, including the future leaders of the business.
You need to be able to see the journey ahead and understand what you need to do, every step of the way. We have set out the path in clear stages. Each step outlines what you need to know in terms of knowledge, what you need to be able to demonstrate in terms of competency and finally the results you need to achieve. Your progression is dependent on passing all of the relevant training courses, coaching sessions and workshops. In addition you will be required to evidence competency in your role through observation, assessment and adherence to our core competencies and behaviours.
To progress you must also achieve the performance standard and spend a minimum time in each role.
(To include stepping stones visual of career structure for both EA and Lettings)
To find out more about careers, download one our our Career books. (link to books)
See what our staff have to say about working here: Staff Testimonials
Existing content: Your career is important to us and we are committed to promoting from within. We aim to attract and recruit the highest calibre individuals, who receive an industry-leading training and development programme. It is this combination that allows us to be so confident in helping people realise their potential and achieve success.
Many of our senior management team started in entry level positions and have progressed through a structured career path.
Insert testimonial –
Each area within the business has its own career path - here are our example career paths for the sales and lettings side of the business.
Sales: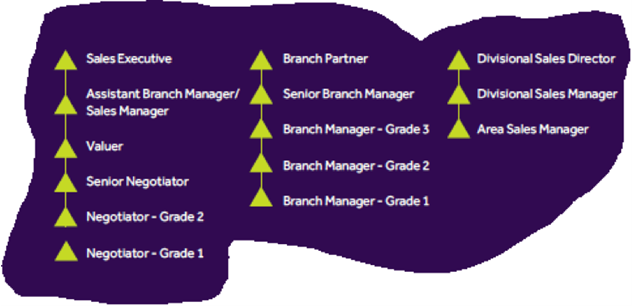 Lettings: