Nabil Ahmed - Lettings Branch Manager
---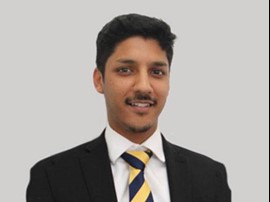 Name: NabilAhmed

Location: Ilford

Current Job Title: Lettings Branch Manager

What was the reason you wanted to join haart?
After graduation it became apparent to myself that I no longer wanted a typical 9-5 job which involved me simply getting on with my duties. I wanted something invigorating, challenging, exciting and fast paced. The lettings industry was the answer! We work in the office with the team, hi fiving across the table when we hit a target, and out of the office with clients, looking at beautiful properties and talking to them about their 'needs and wants'. This was my perfect cup of tea and I could only do it with one company – haart! If I was going to be the best then I would have to join the best is what I said to myself.
What is your background (previous employment)?
Previously I was at University studying English literature, I was on my way to becoming a lecturer at university level when during my last year I had a change of heart. I have worked in other part-time roles such as hospitality and financial services all of which required me to be fully customer focused.
How long have you been in your role?
I have been with haart, so far, for one glorious year.
How does your current role compare to previous jobs you have had?
The main comparison I can make is this. Before I have had jobs – haart is a career! I am having a fantastic time. I have never, and I mean never, been with a company that cares so much for the progression of its own staff. When I realised that this was a genuine interest I immediately knew I was committed on this journey. I have received everything I was promised in regards to promotions – which to be fair was very quick in comparison to other companies.
What are the key benefits of working in the Company?
The support and career progression. Also having haart behind you makes business so much easier. When my clients hear that I am from haart they are more willing to listen and do business as they know that we are a leading and highly professional agent.
What one thing has made working at haart worthwhile?
I keep talking about career progression, but that's because I have never seen such a system with any other company. Within 6 months of me joining I was promoted to a senior negotiator and within a year I became a branch manager – This has definitely made it worth all of the hard work which has been put in.
What does a typical day look like?
We start with the morning meeting everyday without fail – this allows us to reflect on the previous days performance and to plan the current. We then arrange viewings for properties and also conduct valuations. The rest of the day is down to us. We are in control of our diary meeting clients and doing the business.