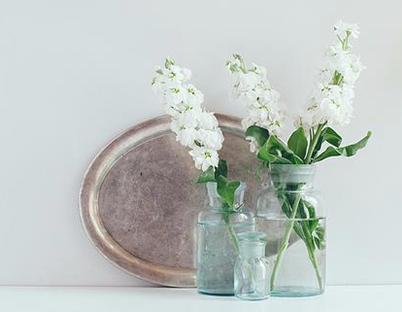 After a long winter, we can finally prepare our homes for milder weather, longer days and balmy evenings (well, we can keep our fingers crossed!) Take a look at these top tips for readying your home this spring. 
Sort your bed linen

Change your winter duvet for your lighter summer version and stash away any thick throws you won't be using over the summer months. Before hiding away your winter bedding and sheets, it is a good idea to give them a good wash and allow them to dry. This means they'll be clean and fresh when it comes round to the cooler seasons. Zipper storage bags and vacuum sealed storage bags are a great way to store bulky throws and duvets without taking up too much room.

Clean and air

The dreaded spring clean - many people use this time of year for a deep clean to quite literally blow away the cobwebs. Try segmenting your cleaning and choosing one room/area each day or weekend, if the idea of a mass clean is a bit daunting. On a milder day, open up your windows for a while and allow some fresh air in to your home.

Outdoor jobs

Now is a great time to do those outdoor odd-jobs such as repainting your fence, clearing your gutters or repairing paths, gates and tidying those borders. Choose a dry, mild day and it will be much easier to complete these tasks than in the full heat of the summer sun (or the pouring rain...you never know with the UK!) It will also ensure your outside space is looking good for the summer.

Fresh flowers

Adding some fresh flowers is a great way to brighten up your home. Nothing says spring like a lovely, bright bunch of flowers and it has been proven that they can also act as a mood booster!

Candles and scents

During the winter months, nothing can be more heart-warming than coming home to the smell of a scented candle or diffuser. Spring is a good time to switch it up and choose a fresher scent to reflect the lighter days and milder weather. You could opt for something fruity/citrusy or a lovely fresh linen type smell.

Do you have any tips for preparing your home for spring? Tweet us @chewtonrose with your ideas!